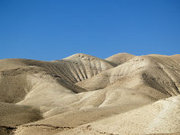 Temperate deserts have strong temperature contrasts between summer and winter and low rainfall. Under the Koppen-Trewartha system, there are two deserts: BWh (hot desert) or BWk (temperate desert). The letter k signifies that at least 1 month has an average temperature below 32F (0C). These deserts differ from those at lower latitudes mainly in their much lower winter temperatures and far greater annual temperature range.
Image of the Temparate Desert by David Shankbone, licensed under GFDL
Even-toed ungulates
Goitered gazelle
Argali
Bighorn sheep
Gacela de przewalski
Bharal
Carnivores
American jackal
Arctic wolf
Corsac fox
Sand fox
Cross fox
Chinese desert cat
Jungle cat
Wild cat
Eurasian lynx
Chilean pampa cat
Cheetah
Cougar
Bats
Botta's serotine
Namib long-eared bat
Hyraxes
Rock dassie
Elephants
African elephant
Rodents
Thick-tailed pygmy jerboa
Heptner's pygmy jerboa
Kozlov's pygmy jerboa
Five-toed pygmy jerboa
Thomas's pygmy jerboa
Cape gerbil
Highveld gerbil
Gray glimbing mouse
Cape short-eared gerbil
Yellow steppe lemming
Long-eared jerboa
Namib brush-tailed gerbil
Dune hairy-footed gerbil
Gerbil mouse
Littledale's whistling rat
Namaqua rock rat
Gobi jerboa
Pouched mouse
Bucharian vole
Edentates
Screaming hairy armadillo
Large hairy armadillo
Lesser fairy armadillo
Pichi
Read more at the list of
biomes of the world
...