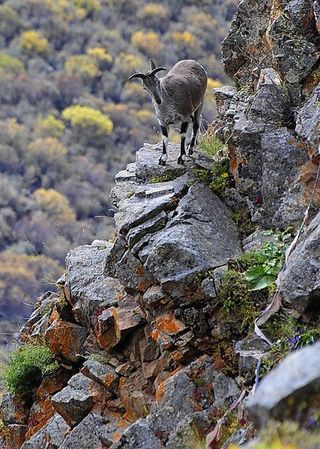 Bharal
Order : Artiodactyla
Family : Bovidae
Subfamily : Caprinae
Species : Pseudois nayaur

The Bharal, blue sheep is listed as Least Concern. Does not qualify for a more at risk category. Widespread and abundant taxa are included in this category, on the IUCN Red List of Threatened Species
Some facts about the
Bharal
Adult weight : 55 kg (121 lbs)
Maximum longevity : 21 years
Female maturity :730 days
Gestation : 160 days
Weaning : 182 days
Litter size : 2
Facts about the bharal
Bharal Pseudois nayaur is present in good numbers and the presence of ibex Capra ibex remains uncertain.
Blue Sheep or Pseudois nayaur is listed on the IUCN Red list (1996) as Least Concern .
In Pakistan the Bharal is only found in the remotest northern region of the north-eastern border region of Hunza and on the eastern watershed of the great Baltoro Glacier system in Baltistan.
It has characters intermediate between the sheep and the goats, Bharals are found at altitudes of 3600 m to 5000 m and feed on the rich and abundant grass on the alpine meadows.
The Bharal is known as the Himalayan blue sheep though strangely enough, it is neither blue nor is it a sheep.
The Name "Bharal": "Bharal" is Hindi for "Indian.
The bharal is a major food source of the Snow Leopard. (Wiki)
However, in spite of of its name, the Bharal is neither blue nor a sheep. (Full text)
In addition to leopards we find the endangered wolf dog, Tibetan wild Ass, small animals like the wooly hare, Bharal is uniformly spread here. (Full text)
Conservation Status The bharal is considered a low risk, near threatened species by the IUCN (1996). (Full text)
Blue sheep (Pseudois nayaur) is an ungulate widespread in the eastern part of the Tibetan Plateau. (Full text)
More animals beginning with B
Custom Search