Monday 30 July 2012

Long-tailed field mouse - Comic of the Forest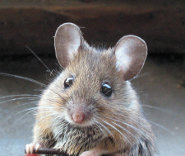 The
long-tailed field mouse
(
Apodemus sylvaticus
) is commonly found in the woods, hedgerows and scrub throughout the countryside in Britain and Ireland. It also ranges to Scandinavia to the north, to Ukraine to the east and to the south in north western Africa and on many Mediterranean islands.
It is the cousin to the yellow-necked mouse, but the long-tailed field mouse is smaller and darker. Cats, weasels,
stoats
, foxes, owls and moles will make a meal of the mouse if they can, but the long-tailed field mouse is a great jumper and climber and not easy to catch. If it is caught by the tip of its tail, it will immediately shed the end of its tail and make its escape. The shed tip may never grow back. On the IUCN Red List of threatened Species it is classified LC (least concern).
Also called the wood mouse, it is mainly nocturnal and will eat a varied omnivorous diet including seeds and nuts when they are plentiful and small insects, snails, spiders and larvae mainly in the spring along with roots, berries and other fruit. It lives underground in burrow systems and has chambers for nesting and storing food. Its nests consist of balls of dry grass, leaves and moss. Sometimes it uses vacated bird's nests to store food. It lives mainly outdoors in grassland and cultivated fields, but it will live inside a building during an especially harsh winter.
It has a breeding season from February to October which consists of a free-for-all competition between males and females. This results in multiple paternity litters. After 25 or 26 days the litters are born and usually contain five young. They are independent at three weeks and sexually active at two months.
The long-tailed field mouse is larger than a common house mouse measuring 8.1 cm (3.9 inches) to 10.3 cm (4 inches) nose to tail. The tail is 7.1 cm (2.8 inches) to 9. 3 cm (3.6 inches) long. They weigh between 13 grams (.46 ounces) and 27 grams (.95 ounces).
The long tailed field mouse does not hibernate, but it does greatly reduce its physiological activity during sever winter seasons. At night when they are most active they sometimes mark their food hiding places with conspicuous objects such as a bright leaf or large twig. They use these signs as landmarks while they are foraging for food. Basically, they are organized food gatherers, but have scramble competition for copulation.
Picture of the long-tailed field mouse by
Rasbak
, licensed under
GNU Free Documentation License
. You can help spreading the word about this animal by liking it on facebook