Sunday 31 July 2005

Cetaceans (Whales and dolphins)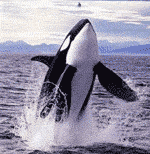 Thought to be once living on land,
cetaceans
have evolved to the aquatic life. Many cetaceans can dive for long periods and to great depths. Unlike humans, who can't dive too far down or stay under for too long or else too much nitrogen will be dissolved into our bodies, the cetaceans are not breathing pressurized air as is the scuba (self-contained underwater breathing apparatus) diver. The cetacean actually just holds its breath under water, so the air to be dissolved into its body, slowly decreases.The disease human divers can get from staying too long or too deep is called the caisson disease, altitude sickness, or the bends. A few cetaceans are believed to be the most intelligent non-primates and many have
proportionately
larger brains.
(more)
You can help spreading the word about this animal by liking it on facebook