Thursday 29 September 2005

Giant squid - Japanese scientists take the first images of a living specimen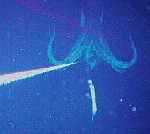 Japanese scientists discovered the giant squid by following Sperm whales, which hunt for the giant squids. It is believed to reach lengths of 60 ft (18 meters) long and has two tentacles that can stretch up to two thirds of its length. Tracking the
Sperm whales
and dangling bait and their camera at 450 fathoms (800 meters) they managed to catch the attention of a 25 ft (7.62 m) long giant squid and some pictures.
A researcher from New Zealand has captured the first live images from a "giant" squid earlier, although you can leave "giant" out, they were only half an inch long larvae.
In 2003, a giant squid attacked a french boat, which was taking part in the round-the-world (talk about coincedence!) Jules Verne Trophy. (Jules Verne is the author of 20,000 Leagues Under the Sea, in which is described how giant squid attacked Capt Nemo's submarine Nautilus).
Links
news.telegraph
news.yahoo
20,000 Leagues Under the Sea (public domain version) You can help spreading the word about this animal by liking it on facebook