Thursday 17 July 2008

Grivet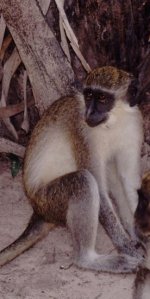 The Grivet is an old world monkey with long white tufts along the sides of their face. They can be found in Ethiopia and Sudan. They are also know as "grass monkeys". Males are usually larger than females. Their habitat is limited to places where water is available on a daily basis. Grivets are highly social animals. Groups of Grivets can consist of multiple males, which is quite unusual for a group of monkeys. Dominant males show their dominance by placing their tails in the air. They are omnivorous, but their diet mainly consists of fruit. Predators of the Grivet monkeys include leopards, snakes and raptors and also baboons.
Interesting fact: The origin of their name is from the French word "guenon," and is a person making faces, which is exactly what they do when they are angry or excited.
Image by 'KG', licensed under Attribution ShareAlike 2.5

You can help spreading the word about this animal by liking it on facebook