Tuesday 18 December 2012

Greater Galago - an Amazing Jumper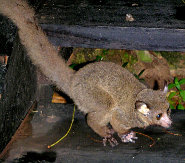 The
greater galago
(
Otolemur crassicaudatus
), also knows as the bush baby or nagapie (which means "little night monkeys" in Afrikaans), is a small primate that spends most of its waking life during the night time. They come from the continental, forested areas of Africa. With large eyes for night vision and long bushy tails for balance, the greater galago has strong back legs for jumping as well as relatively large ears for a good sense of hearing. The majority of their toes have nails, rather than claws. However, the second toe of the back foot features a claw instead. The claw is used for personal grooming. The greater galago is somewhat omnivorous, consuming insects and other small animals as well as fruit and gum from trees. Their front teeth are somewhat comb shaped.
The greater galago is known for its jumping ability. They are capable of jumping straight upward as high as 2 meters, or 6.6 feet. This is much greater than is typically possible for an animal of this size, which weighs in between two and a quarter and four and a half pounds (one to two kilograms). This remarkable jumping ability is thought to be related to extremely elastic tendons located in their lower legs capable of storing a great deal of energy.
The greater galago grows in the womb for a period of a hundred and ten to a hundred and thirty three days. Once born, they are unable to move independently and their eyes are still half closed. After about a week, the mother begins carrying the baby galago around in its mouth, leaving it on tree branches in order to feed it.
Females of the species maintain a particular territory. That is, the females of the species are territorial, but they share the territory with their children. When the males hit puberty, they leave to stake out a new territory. The females remain with their mothers, building a social community of related females that watch over one another's children. In most cases, a male will seek out another female territory, mating with all of the females located within that territory. In cases where males are unable to do this, they will occasionally form their own community of males.
Greater galagos should not be kept as pets because they can be infected with diseases that are capable of spreading to humans, as is the case with most primates. Nevertheless, several people do keep them as pets, and customs officials find them being imported between countries. Length of life in captivity is about fifteen years, meaning that in the wild they likely live for roughly a decade.
Picture of the greater galago by buecherfresser, Kenya, August 2004, licensed under
GFDL
You can help spreading the word about this animal by liking it on facebook