Thursday 28 June 2007

Bowhead Whale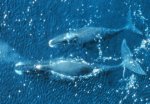 The
Bowhead Whale
(Balaena mysticetus) is also named the Arctic Whale or Greenland Right Whale. Unlike other whales, the bowhead spends all its life in the Arctic waters. In history they were an ideal target for whale hunters, they are slow swimming and float after death. Their predators are orcas and humans. Depending on the location of the whales, they are classified as 'critically endangered' (Spitsbergen) to 'Lower risk - conservation dependent' (Bering-Chukchi-Beaufort).
Some facts:
With their gigantic bony skulls they can break through 60 centimeter thick ice to breathe.

The layer of blubber fat on their body can be as thick as 50 centimeters.

Bowhead whales can stay as long as 40 minutes.
Bowhead whales do not have dorsal fins and have the longest baleen plates of more then three meters.
You can help spreading the word about this animal by liking it on facebook