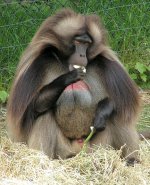 The Gelada (Theropithecus gelada) can be found in the highlands of Ethiopia and Eritrea, the especially Semien Mountains National Park in Ethiopia. They are eaily recognizable for their hourglass-shaped patch on their chest. On males, the patch is surrounded by white hair. They live in small harems, consisting of one male, several females and the young Geladas. The small harems join together to feed and the numbers of the total number of Geladas can go as high as 670! The Gelada prefers to sleep on rocky cliffs. They are exclusively herbivorous and feed on grass, seeds, fruit, and flowers. Geladas are not listed as endangered, but it is estimated that around 50,000 to 60,000 exist today. Through habitat destruction and hunting they are forced to live more close to the Olive Baboon and hybiridsation has been observed.
Picture of the Gelada by sannse, licensed under GFDL
The Gelada baboon is listed as Near Threatened (LR/nt), is close to qualifying for or is likely to qualify for a threatened category in the near future, on the IUCN Red List of Threatened Species
Namings for the gelada baboon
A young / baby of a gelada baboon is called a 'infant'. A gelada baboon group is called a 'troop, congress, tribe or flange'.
Some facts about the
Gelada baboon
Adult weight : 16.2 kg (35.64 lbs)
Maximum longevity : 36 years
Female maturity :1391 days
Male maturity : 2190 days
Gestation : 168 days
Weaning : 433 days
Litter size : 1
Litters per year : 1
Interval between litters : 740 days
Weight at birth : 0.464 kg (1.0208 lbs)
Weight at weaning : 3.9 kg (8.58 lbs)
Custom Search