Tamanduas (Genus Tamandua) - Tree-living Anteaters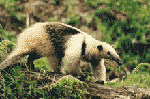 Anteaters (Myrmecophagidae) are members of a very special group of mammals - the Xenarthrans - quite unusual and conspicuous animals, such as Sloths (Pilosa) and Armadillos (Dasypodidae). There are just 29 Xenarthran species left nowadays, but this group has been one of the most dominating mammal orders in South America during the tertiary period.
There are two Tamandua species: the Northern Tamandua (Tamandua mexicana), inhabiting Central America and the northwestern part of South America, and the Southern Tamandua (Tamandua tetradactyla), which can be found further south. Both species are very variable concerning their fur colour and markings. There are also all kinds of transitions between these variants, resulting in the fact that it's not always easy to distinguish between the two species. Tamanduas are about 60 cm long with a prehensile tail of the same length in addition. They reach weights of about 6 kg. The probably most conspicuous distinctive mark of all Anteater species is their long snout and their extremely long tongue. It's often presumed that the Anteaters' tongues are sticky due to some secretion, in order to be better able to collect ants and termites. Mistakenly - all Anteater species just wet their tongue with saliva. In order to collect and eat ants and termites no teeth are necessary. Accordingly the Anteaters' teeth have been reduced during their evolution. But in contrast to their completely toothless relatives, the Giant anteaters (Myrmecophaga tridactyla), Tamanduas still have remains of teeth.
The Giant anteaters are by far better known than their smaller relatives, the Tamanduas. They are ground-living animals, inhabiting the South American grasslands. Tamanduas can be found on the ground sometimes too, but they prefer living in the trees, where they are searching for colonies of ants and termites. In order to open the nests, Tamanduas have got sharp claws at their front paws. They pay attention to not destroying the nests completely and take just a small portion of the colony before they go for the next nest. Thus Tamanduas "harvest" ants and termites and preserve the colonies for the next "harvest". Ants and termites are the prefered but not the exclusive nutrition of Tamanduas; fruits are on their menu too. Searching for food, Tamanduas move very leisurely among the branches. Their prehensile tail is permanently groping for solid hold, slowing down their locomotion even more. Tamanduas are mostly active during the night and sleep through the day in forks of branches, securing themselves by wrapping their tails around branches.
Tamanduas are not very choosy concerning their habitat. They inhabit rainforests as well as more arid regions and park-like landscapes. Tamanduas are still quite numerous. They live solitary and just meet for mating. After a pregnancy of six months the female gives birth to a single young, which immediatelly clings to the mother's back. This will be its favourite place for the next three months. Then the young will go on outings more and more often and will start searching for its crawling prey itself.
This article was originally published at magazine.naturspot.de. Link to the original article
---
two comments:
You are so cool! I keep blogmarking you ("YOU HAVE ALREADY BLOGMARKED THIS SITE!"), but I have to get you onto my blogroll. We are embarking on the homeschooling venture with our 11-year-old daughter this year, and yours is definitely one of the sites we will be visiting regularly.

Sorry to turn you into an unpaid distance-ed teacher without your permission, but I think this must be all part of your "15 Minutes of Fame" obligation. It's written somewhere on pag 372 of your contract, if I'm not mistaken… lol.
Les Becker (Email) (URL) - 26 07 05 - 00:54