Thursday 24 July 2014

The Weeping capuchin- a Social Learner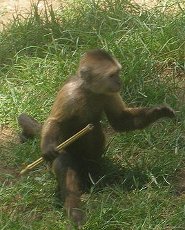 Weeping capuchins (
Cebus olivaceus
) are also called wedge-capped monkeys because of the dark hair on the top of their head resembling a monk's cap. They are native to the semi-deciduous, tropical forest of South America in
Venezuela
,
Guyana
, and the Amazon Basin. Coloration is tan or cream, with a white face and chest and a wedge of dark hair on the top of the head. Weeping capuchins weigh an average of 2.5 to 3 kg (5.5-6.6 lbs.), with the male weighing up to 800g (1.7 lbs.) more than the female. Average length is 500 mm (19.6 in) and tails are as long as the body making the over-all length 840 mm (33 in). Their tail is prehensile, which means it can support their entire hanging weight. This skill is handy as they can use both hands to pick and eat food. Fruit, nuts, flowers, buds, bark, bird eggs, small vertebrates, insects, spiders, and crabs make up their diet. Weeping capuchin monkeys live in bands or troops, consisting of 10 to 30 members. Most of the members are females with their young, a few males, and a dominant male. The dominant male is the only one that mates with the females. Mating season is from October to February, but may be year-round, and females have one offspring every 18-24 months. Gestation is 145-170 days. The infants are able to grasp onto their mother's chest within minutes of birth and spend the first few months clinging to her. Females mature in four years, males in 7. Weeping capuchins may live 45 to 55 years in captivity, while life expectancy in the wild is 34-36 years.
These mischievous little monkeys are very intelligent and often used in laboratories, research, shows at zoos, and in the motion picture industry. One
famous little capuchin is Marcel
, who played the pet monkey in the American television series "Friends." Capuchin monkeys are often sold as pets, but they can be very destructive. Many, like Marcel in the series, are eventually donated to a zoo.
The main predators of the weeping capuchin monkey in the wild are humans. Some native populations hunt them for food and others are captured for labs and pets. Natural predators are large snakes, falcons, cats, and rodents. They are currently listed as "Least concern" on the IUCN Red List of Endangered Species.
Weeping capuchins are very social and groom each other. They make vocalizations that sound like someone weeping, which led to their common name. These monkeys are so smart that they have learned to crush a centipede and smear it on their bodies to repel mosquitoes. You can help spreading the word about this animal by liking it on facebook