Homo neanderthalensis - extinct from competition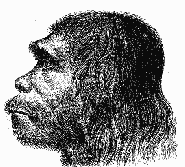 Recent study shows that Homo neanderthalensis went extinct from competition.
Until recently it had been thought that Neanderthals went extinct due to climate change, scarcity of food sources, and other environmental changes – although it has long been postulated that Cro-Magnon man outcompeted his cousin Neanderthals. In the study location, time, and conditions of those times were looked at carefully using radiocarbon dating along with high-quality simulations. Using special algorithms along with advanced predictive models it was shown that Neanderthals should have had no real reason to continue their decline unless another source was causing it.
Neanderthals are not a direct ancestor to modern man, but instead are an offshoot of a common ancestor. Nearly identical in most respects, their cranial capacity was only slightly less than our own, however their strong build and oft-found healed fractures indicate a much rougher and harder life than that of Cro-Magnon man. What the modern Homo sapiens lacked in muscle was made up for in more efficient means of hunting and use of tools. Additional plausible explanations include the more complex roles in early societies and understandings of broader visions and planning – however it is unknown whether this occurred then, or later, and whether it was the result of a different social structure. Cro-Magnons are in essence modern man; however they are distinct enough to be considered early modern man. The genes from mitochondrial DNA matches those of the inhabitants of Europe today along with Africa, while mutations are found in populations further out.
The Study showed that the last populations of Neanderthals to die out lived in Spain, at the southern end, as they avoided contact and competition with Cro-Magnon man. However once contact was made, they too died out. It is unknown exactly how they were eliminated from the line, but it is seen that modern humans were taking away the niches that Neanderthals had held for thousands of years, and with nowhere to go they simply died out through starvation. However combat has never been directly ruled out by any study, and it is possible and likely that combat would have occurred over restricted resources.
To read more about the findings of the study, follow
this link
Tags used in this posting
Other entries about 'apes'
Other entries about 'primates'
---
Add your thoughts about this animal: