Gerp's Mouse Lemur - Primate Discovered in 2012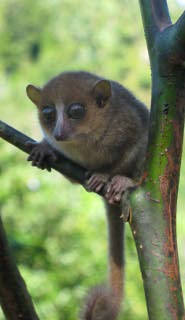 The Gerp's mouse lemur (
Microcebus gerbi
) is a tiny, rare primate that lives only in the forests of the eastern part of the island of
Madagascar
. Because this species is so new to scientists and biologists, not much is known about them, except that they are nocturnal and they prefer to keep in the lowland section of the forests. Just why they prefer these areas is still unknown.
It is unknown how many are alive, what they eat or what predators eat them (besides humans). Their forests are being cut down for timber and agriculture. The particular area where this new lemur was discovered is not under national protection. We may never learn much about the Gerp's mouse lemur if its habitat is destroyed.
The Discovery
This long-hidden species was discovered by a group of German researchers in 2012. The name "Gerp" is an acronym for the research organization's station base, Groupe D'Etude et de Rechurche sur les Primates de Madagascar. The group first arrived in Madagascar in 2008 and first thought the creature now known as the Gerp's mouse lemur was just a variation of another mouse lemur species.
Several lemurs captured in the Sahafina Forest, skin samples taken and released back into the forest. Its skin samples, along with samples of other lemurs in the area, went to a European lab to have the DNA sequenced. It took years to decode the DNA, but when the results were in, the team knew that they had discovered a new lemur species.
General Description
The adult Gerp's mouse lemur is only as large as a pet hamster. Adults weigh a mere 2 to 2.5 ounces (60 to 70 grams). But it's not the smallest mouse lemur in Madagascar. That honor goes to the mountain-dwelling Goodman's mouse lemur, which weighs a mere 1.55 ounces (44 grams.) Like other lemurs, it has huge eyes in proportion to its head; a pointed pink nose and bat-shaped, mobile ears. The huge eyes and prominent ears help the tiny mammal maneuver in the dark.
The tail, at a whopping 5.77 inches (146.5 millimeters.) is longer than its body and hand-like paws containing six claw-like fingers. The Gerp's mouse lemur is colored like a Syrian or golden hamster with a sandy brown body and white under parts. The fur is thick, short and dense, with longer hairs on the tail tip, which the lemur holds at rest in a hook shape.
Picture of the gerp's mouse lemur by Blanchard Randrianambinina, licensed under the
Creative Commons Attribution-Share Alike 3.0 Unported license
.
Tags used in this posting
Other entries about 'africa'
Other entries about 'primates'
---
Add your thoughts about this animal: