Battle at Kruger Park - Buffalo hunting gone wrong - who would expect this ?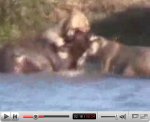 The lions in this movie try to capture a buffalo baby. I won't tell the whole story you should watch for yourself. At first they succeed, but then something happens they did not expect, did you ?
Watch the Battle at Kruger Park movie
.
Tags used in this posting
africa, artiodactyla, carnivores, cat, cats, crocodile
Other entries about 'africa'
Other entries about 'artiodactyla'
Other entries about 'carnivores'
Other entries about 'cat'
Other entries about 'cats'
---
two comments:
lol
*unknown* - 19 08 07 - 02:36