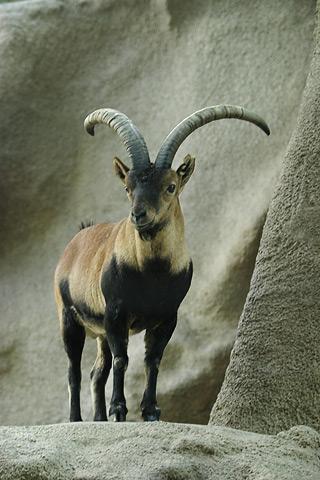 Spanish ibex
Order : Artiodactyla
Family : Bovidae
Subfamily : Caprinae
Species : Capra pyrenaica

The Spanish ibex is listed as Near Threatened (LR/nt), is close to qualifying for or is likely to qualify for a threatened category in the near future, on the IUCN Red List of Threatened Species
Some facts about the
Spanish ibex
Adult weight : 57.5 kg (126.5 lbs)
Female maturity :548 days
Male maturity : 1096 days
Gestation : 165 days
Litter size : 2
Facts about the Spanish ibex
Southeastern Spanish Ibex Hunt - 6,850 USD Trophy Fee The Southeastern Spanish Ibex is hunted in the mountains and reserves of Tejada, Almijara, Sierra Nevada, Lújar, Cazorla and Muela de Cortes in southeastern Spain.
Stalking the Spanish Ibex is a challenge for the fittest as the mountains around Ronda can take their toll.
The aim of these actions is obtain the maximum probability to bring down the selected specimen with only one shot, since the Spanish ibex is a very reserved, suspicious and elusive species.
The Spanish Ibex is the most important European Trophy for any hunter and above
Spanish ibexThe last refuge of the highly endangered Spanish ibex is on the rock ledges of the Ordesa Valley. (Full text)
Spanish Ibex The Spanish Ibex is allegedly the worlds only pure Ibex and there are five sub-species to be found in Spain, namely, Gredos, Beceite, Ronda, Cazorla y Sierra and Nevada. (Full text)
7 Total Results On the edgeThe Spanish Ibex (Capra pyrenaica) is a true wild goat. (Full text)
More animals beginning with S
Custom Search