Giant Mottled Eel -- Large Eel with a Long Migration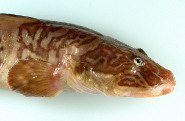 The mottled eel or giant mottled eel (
Anguilla marmorata
) is an important source of food for many people living in tropical countries. Young eels are found in fresh water and brackish water in lakes, rivers and estuaries. Adults swim to the saltwater of the Indian and Pacific Oceans in order to breed. They are found as far north as
Japan
and as far south as the Galapagos Islands. They also inhabit the African river of the Zambezi.
Because of overharvesting and water pollution, the giant mottled eel is rare in some of its usual habitat, but is not listed as an endangered species. However, the national government of Taiwan as declared it an endangered species. Attempts to introduce the giant mottled eel to Hawaii as a food source have failed, although individual eels are occasionally found living in the Hawaiian Islands.
Physical Description
Newly hatched larvae, called leptocephali, are shaped like tiny leaves. As they get older, they transform into miniature adults. Juveniles are yellow and black and go through a silver phase until they get their adult coloration. Adults are long, hose-shaped fish with small fins from the middle of the back and around the tail and right behind the gills. The skin is spotted shades of brown, green and grey in a pattern similar to a tabby cat. The undersides are pale gray to white. The small eyes perch on the top of the head. The mouth appears very large in relation to the rest of the body.
Females are usually larger than males. Females can grow to a length of 6.6 feet (2 meters) while males only grow to 4.9 feet (1.5 meters.) Full-grown males and females can weigh up to 45 pounds (20.5 kilograms.) Giant mottled eels are often harvested when they weigh only 26.45 pounds (12 kilograms.)
Life Cycle and Behavior
Giant mottled eels stay near the bottom of a water body, resting during the day and searching for food at night. Their varied diet includes frogs, crabs, fish and shrimp. They are unaggressive towards people. Their short front fins are strong enough for the eel to use as primitive legs so it can crawl from one body of water to another. They may do that during dry seasons. When they are anywhere from 8 to 20 years old, they become large enough to become sexually mature and move out to sea to spawn.
Eggs are lain in deep waters and when they hatch the leptocephali eat plankton until they are large enough to travel to brackish water. This is when they are about 114 to 132 days old. When they reach freshwater or brackish water, they transform into elvers or young eels. With luck, a giant mottled eel can live for 40 years!
Tags used in this posting
Other entries about 'fish'
---
Add your thoughts about this animal: