The Blue Poison Dart Frog - Pretty and Poisonous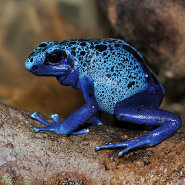 The blue poison dart frog (
Dendrobates azureus
) flaunts its rich sapphire-blue coloring as a warning to predators that it will make a very unpleasant, possibly deadly meal. While poison dart frogs can be found in a number of different parts of Central and South America, this particular species occurs only in the southernmost area of
Suriname
, near its border with
Brazil
. This frog is also known as Okopipi, which is what the native Indians in Suriname call it.
The
Dendrobates
family of frogs produces a toxin known as pumiliotoxin. Although a person might infer from this frog's common name its toxins were used in the manufacturing of poisonous darts by native tribes, only the secretions of three other species of poison dart frogs were actually ever used in that manner, and
Dendrobates azureus
was not one of them.
The blue poison dart frog is a striking-looking frog. Its upper body is a vivid sky blue that is liberally sprinkled with black and dark blue spots. Its four limbs and underside are a darker hue. Blue poison dart frogs typically weigh about 3 grams or approximately 0.11 ounces, and are typically 3 to 4.50 centimeters in length or 1.18 to 1.77 inches. It is believed that these amphibians can live up to between six to nine years in the wild.
The blue poison dart frog lives only in a few isolated rainforest islands that occur in Suriname's otherwise dry Sipaliwini savannah area. This frog needs to live near a source of water, such as a stream. They are diurnal, meaning that they are active during the day, and are typically solitary, except during breeding season.
In the wild, these frogs feed on a variety of insects, including ants, spiders, termites and caterpillars; many of which contain toxic compounds. As the frog ingests its prey's poisons, they are absorbed into its skin. Because of this reason, poison blue dart frogs raised in captivity and fed a diet of crickets and fruit flies do not produce toxins.
Unfortunately for the blue poison dart frog, being poisonous doesn't mean that it can live a predator-free life. Some large spiders and snakes enjoy dining on these little amphibians. This frog is particularly vulnerable in its tadpole stage, where it may fall prey to snakes and dragonfly larvae.
Because this frog occurs in remote areas, its exact numbers are not known, but its IUCN status is vulnerable, and it is also currently listed as Appendix II of Cites, mainly due to its limited and unique habitat.
Picture of the blue poison dart frog by Quartl, licensed under the Creative Commons Attribution-Share Alike 3.0 Unported license.
Tags used in this posting
Other entries about 'south_america'
---
Add your thoughts about this animal: