Tail hair of elephant reveals diet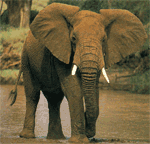 A tail hair of an
elephant
can reveal clues about their diet. Researchers look at the chemical analysis of an elephant hair to determine diet and behavior. In Kenya's Samburu National Reserve, scientists studied the elephants using GPS. Through the chemical analysis of the tail hairs, the researchers found out one of the seven elephants observed, had been raiding crop fields, which can upset farmers. "
How can we secure a future for elephants when we know that the areas set aside for their protection are too small?
" said study co-author and zoologist Iain Douglas-Hamilton, founder of the Save the Elephants Foundation in Nairobi, Kenya according to
this article in BBC NEWS
.
---
three comments:
Elephants have always been part of the history, culture, pageantry, folklore and even politics of Sri Lanka. By tradition elephants from other parts of the world, including Africa, were believed to incline their heads or kneel to the Sri Lankan elephant, recognising it instinctively as their superior.
DrPolitics (Email) (URL) - 06 01 06 - 16:50