Two Talking Cats - and What They Are Saying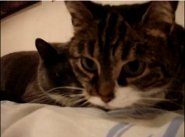 Very adorable video of two talking cats, they really seem to have a conversation. After you have watched it, watch also the next video, where you hear what they say in English, very funny...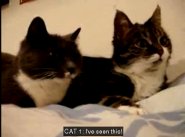 In this video, you hear what they were saying in English, good video.
---
six comments:
Thats adorable!
Anthony (URL) - 30 01 11 - 22:58
quite adorable, yes
Dan - 21 04 11 - 02:35
this cat is adorable , very cute click
kelly (URL) - 03 10 11 - 19:50
One or more comments are waiting for approval by an editor.