Monkey pulls dog tail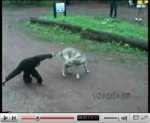 This is a funny video about a monkey pulling the tail of a dog. The dog doesn't know what hit him!
Click here to view the video
---
four comments:
super
sukanyajagannathan (Email) - 10 05 08 - 08:51
Haha that is a funny dog video. Come check out some funny dog pictures here at my site: http://www.yaydogs.com
yaydogs (Email) - 02 07 08 - 06:34
One or more comments are waiting for approval by an editor.