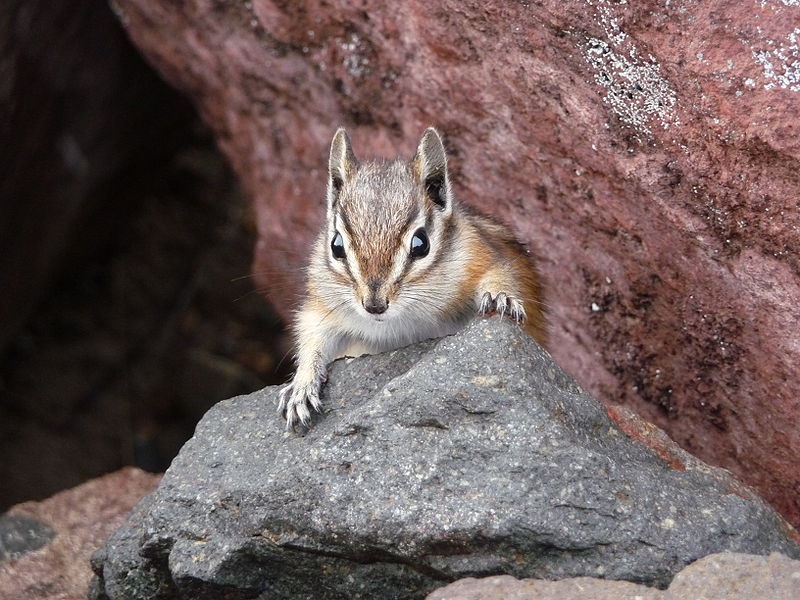 Picture has been licensed under a
GFDL
Author
: Damean Kuhn
Permission
: GNU Free Documentation License
Yellow-pine chipmunk
Order : Rodentia
Suborder : Sciurognathi
Family : Sciuridae
Subfamily : Sciurinae
Species : Tamias amoenus

Keywords: yellow , stripe , black , white , tail , brown
The Yellow-pine chipmunk is listed as Least Concern (LR/lc), lowest risk. Does not qualify for a more at risk category. Widespread and abundant taxa are included in this category, on the IUCN Red List of Threatened Species
Some facts about the
Yellow-pine chipmunk
Adult weight : 0.048 kg (0.1056 lbs)
Female maturity :365 days
Male maturity : 365 days
Gestation : 30 days
Weaning : 44 days
Litter size : 5
Litters per year : 1
Weight at birth : 0.003 kg (0.0066 lbs)
Weight at weaning : 0.019 kg (0.0418 lbs)
Basal metabolic rate : 1 W
Body mass : 0.056 kg (0.1232 lbs)
Temperature : 36.85 °C (98.33 °F)
Facts about the yellow-pine chipmunk
However, in the Sierras, where the yellow pine chipmunk is also found, the least chipmunk is restricted to sagebrush habitat. (Full text)
the presence of the yellow pine chipmunk is keeping the least chipmunk from occupying its fundamental niche e.
Distribution within British Columbia The Yellow-pine Chipmunk is found in the central and southern parts of the province.
Yellow-pine chipmunks are active during the day throughout the summer, but hibernate from late fall to early spring. (Full text)
Although yellow-pine chipmunks are omnivorous, they consume and disperse large quantities of seed, including those of antelope bitterbrush and ponderosa pine (Broadbooks 1958, Vander Wall 1994, Verts and Carraway 1998).
The Olympic marmot and Olympic yellow-pine chipmunks are related to other marmots and chipmunks.
Northern flickers, common poorwill, and yellow-pine chipmunks are some of the wildlife that inhabit the parklands of ponderosa pine. (Full text)
Douglas Squirrels and Yellow-pine Chipmunks are common in the campground and picnic areas. (Full text)
More animals beginning with Y
Custom Search