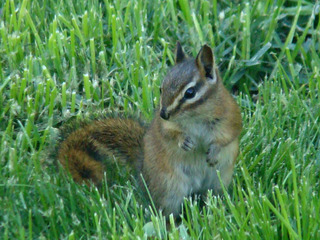 Picture has been licensed under a Creative Commons
Attribution ShareAlike
license
Original source
: http://www.flickr.com/photos/terryandchristine/3553506230/sizes/o/in/photostream/
Author
: Terry Gray
Red-tailed chipmunk
Order : Rodentia
Suborder : Sciurognathi
Family : Sciuridae
Subfamily : Sciurinae
Species : Tamias ruficaudus

Keywords: red
The Red-tailed chipmunk is listed as Least Concern (LR/lc), lowest risk. Does not qualify for a more at risk category. Widespread and abundant taxa are included in this category, on the IUCN Red List of Threatened Species
Some facts about the
Red-tailed chipmunk
Adult weight : 0.075 kg (0.165 lbs)
Female maturity :335 days
Gestation : 31 days
Litter size : 6
Litters per year : 1
Facts about the red-tailed chipmunk
Distribution within British Columbia The Red-tailed Chipmunk is found in two disjunct populations in the southeastern corner of the province.
Red-tailed chipmunk In northern Idaho, the red-tailed chipmunk is considered to be the most widely distributed and common chipmunk.
Red-tailed Chipmunks are one of the larger species in the genus Tarnias.
The red-tailed chipmunk is the most brightly coloured of the western species.
The Red-tailed Chipmunk is from the order Rodentia. (Full text)
More animals beginning with R
Custom Search