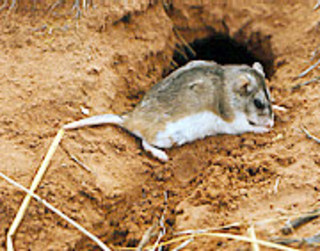 Northern grasshopper mouse
Order : Rodentia
Suborder : Sciurognathi
Family : Muridae
Subfamily : Sigmodontinae
Species : Onychomys leucogaster

The Northern grasshopper mouse is listed as Least Concern (LR/lc), lowest risk. Does not qualify for a more at risk category. Widespread and abundant taxa are included in this category, on the IUCN Red List of Threatened Species
Namings for the northern grasshopper mouse
A young / baby of a northern grasshopper mouse is called a 'pinkie, kitten or pup'. The females are called 'doe' and males 'buck'. A northern grasshopper mouse group is called a 'nest, colony, harvest, horde or mischief'.
Some facts about the
Northern grasshopper mouse
Adult weight : 0.033 kg (0.0726 lbs)
Maximum longevity : 6 years
Female maturity :100 days
Male maturity : 114 days
Gestation : 31 days
Weaning : 23 days
Litter size : 4
Litters per year : 3
Interval between litters : 32 days
Weight at birth : 0.003 kg (0.0066 lbs)
Weight at weaning : 0.013 kg (0.0286 lbs)
Facts about the northern grasshopper mouse
) Habitat/Range: The northern grasshopper mouse is found from northern Mexico to many of the southern Canadian provinces.
com: Similar Species Northern Grasshopper Mouse is larger, with shorter tail.
Description: The northern grasshopper mouse is a stout-bodied, short-tailed mouse that superficially resembles a deer mouse.
Northern Grasshopper Mouse or Onychomys leucogaster is listed on the IUCN Red list (1996) as Lower Risk/Least Concern .
The northern grasshopper mouse is much more common in Utah than is the closely related southern grasshopper mouse. (Full text)
Similar species: Northern Grasshopper Mouse is larger; usually above valley floors where the two overlap. (Full text)
The Northern Grasshopper Mouse is from the order Rodentia. (Full text)
Similar Species Northern Grasshopper Mouse is larger, with shorter tail. (Full text)
Continental DivideNorthern Grasshopper Mouse (Onychomys leucogaster) is found from . (Full text)
Niche: The northern grasshopper mouse is a small bodied carnivore that preys upon arthropods and fellow small mammals. (Full text)
More animals beginning with N
Custom Search