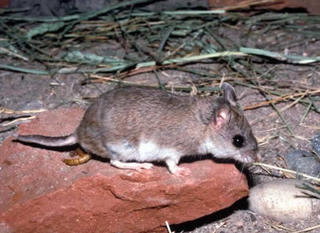 Picture has been licensed under a Creative Commons
Attribution
.
Original source
:
http://www.mammalsociety.org/search/asm_custom_search/Onychomys%20arenicola
Author
: American Society of Mammalogists
Permission
:
The copyright holder of this file, American Society of Mammalogists, allows anyone to use it for any purpose, provided that the copyright holder is properly attributed. Redistribution, derivative work, commercial use, and all other use is permitted.
Mearns's grasshopper mouse
Order : Rodentia
Suborder : Sciurognathi
Family : Muridae
Subfamily : Sigmodontinae
Species : Onychomys arenicola

The Mearns's grasshopper mouse is listed as Least Concern (LR/lc), lowest risk. Does not qualify for a more at risk category. Widespread and abundant taxa are included in this category, on the IUCN Red List of Threatened Species
Namings for the Mearns
A young / baby of a Mearns is called a 'pinkie, kitten or pup'. The females are called 'doe' and males 'buck'. A Mearns group is called a 'nest, colony, harvest, horde or mischief'.
Facts about the Mearns's grasshopper mouse
1996: Onychomys arenicola is uncommon within the White Sands Missile Range.
Mearns's Grasshopper Mouse or Onychomys arenicola is listed on the IUCN Red list (1996) as Lower Risk/Least Concern . (Full text)
The Mearns's Grasshopper Mouse is from the order Rodentia. (Full text)
More animals beginning with M
Custom Search
Play animal guess