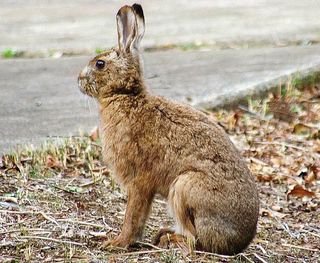 Japanese hare
Order : Lagomorpha
Family : Leporidae
Species : Lepus brachyurus

The Japanese hare is listed as Least Concern (LR/lc), lowest risk. Does not qualify for a more at risk category. Widespread and abundant taxa are included in this category, on the IUCN Red List of Threatened Species
Namings for the Japanese hare
A young / baby of a Japanese hare is called a 'leveret'. The females are called 'doe or jill' and males 'buck or jack'. A Japanese hare group is called a 'band or down'.
Facts about the Japanese hare
Japanese Hare or Lepus brachyurus is listed on the IUCN Red list (1996) as Lower Risk/Least Concern .
Japanese hare(Lepus brachyurus) is about 2. (Full text)
Japanese Hare is living in Honsyu, Shikoku and Kyusyusouth. (Full text)
To the Japanese, Hare is the face of the Moon.
Japanese hares are common in the countryside around Tokyo, especially in areas where vegetables are grown on dry upland fields. (Full text)
More animals beginning with J
Custom Search