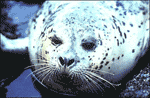 The Common seal (
Phoca vitulina
) is probably the best-known seal species of the northern hemisphere. This might be due to its wide distribution and the fact, that Common seals live near the coasts and can be watched, resting on sandbanks, from the dry land. Common seals prefer regions, where rivers flow into the sea, because these waters are permanently ice-free even in the northern part of their distribution range. The Common seal's second name - Harbour seal - is due to its affinity to coastal regions. Common seals inhabit the European coasts of the Atlantic, the North sea and the Baltic sea as well as the Atlantic coast of the northern part of North America and North America's Pacific coast. Due to the Common seal's wide distribution there are several subspecies.
Keywords: white , brown , gray
The Common seal, harbor seal is listed as Least Concern (LR/lc), lowest risk. Does not qualify for a more at risk category. Widespread and abundant taxa are included in this category, on the IUCN Red List of Threatened Species
Namings for the harbor seal
A young / baby of a harbor seal is called a 'pup'. The females are called 'cow' and males 'bull'. A harbor seal group is called a 'pod, colony, crash, flock, harem, bob, herd, rookery, team or hurd'.
Countries
Belgium
,
Canada
,
China
,
Denmark
,
France
,
Germany
,
Greenland
,
Iceland
,
Ireland
,
Japan
,
Korea, North
,
Korea, South
,
Mexico
,
Netherlands
,
Norway
,
Poland
,
Portugal
,
Russia
,
Spain
,
Sweden
,
United Kingdom
and
United States
Some facts about the
Harbor seal
Adult weight : 115 kg (253 lbs)
Maximum longevity : 48 years
Female maturity :1095 days
Male maturity : 1460 days
Gestation : 253 days
Weaning : 30 days
Litter size : 1
Litters per year : 1
Interval between litters : 365 days
Weight at birth : 11 kg (24.2 lbs)
Weight at weaning : 23.945 kg (52.679 lbs)
Basal metabolic rate : 73 W
Body mass : 27.4 kg (60.28 lbs)
Custom Search