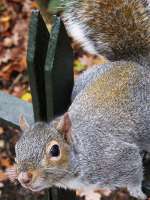 Remember when the Eurasian Red Squirrel was the animal of the day? Here is a quick reminder with an excerpt of that entry:
"On the European mainland and in the UK and Ireland, populations decline through the competition with the Grey Squirrels (Sciurus carolinensis) which were introduced from North America." (full entry here)
The native red squirrels are outnumbered by 66 to 1 by the grey squirrels in the UK. The population of reds is declining, because they are 'squeezed out' by the greys. Now, the UK biodiversity minister Jim Knight proposed "humane and targeted pest control". "Many people love grey squirrels, but the reality is that they are a real problem for some of our most threatened native species," he said.

Read more in this article on the BBC.
Image © Andrew Dunn, Licensed under ShareAlike License v. 2.0
Keywords: gray
The Eastern gray squirrel, gray squirrel, grey squirrel is listed as Least Concern (LR/lc), lowest risk. Does not qualify for a more at risk category. Widespread and abundant taxa are included in this category, on the IUCN Red List of Threatened Species
Namings for the eastern gray squirrel
A young / baby of a eastern gray squirrel is called a 'pup, kit or kitten'. The females are called 'doe' and males 'buck'. A eastern gray squirrel group is called a 'dray or scurry'.
Some facts about the
Eastern gray squirrel
Adult weight : 0.533 kg (1.1726 lbs)
Maximum longevity : 24 years
Female maturity :343 days
Male maturity : 401 days
Gestation : 44 days
Weaning : 66 days
Litter size : 4
Litters per year : 2
Weight at birth : 0.015 kg (0.033 lbs)
Weight at weaning : 0.2 kg (0.44 lbs)
Basal metabolic rate : 2 W
Body mass : 0.44 kg (0.968 lbs)
Temperature : 38.85 °C (101.93 °F)
Custom Search