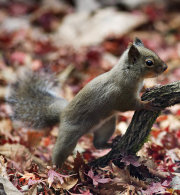 Japanese squirrels (
Sciurus lis
) are reddish grey and have tufted ears and bushy tails. In the Japanese language they are called 'risu', which is written with the Kanji characters for a chestnut and a rat.
The Japanese squirrel is distributed on the islands of Honshu, Shikoku, and Kyushu in Japan. Recently, populations on south-western Honshu and Shikoku decreased and those on Kyushu disappeared. One of the factors affecting to local extinction of this species seems to be forest fragmentation by human activities (
source
).
The Japanese squirrel is listed as Least Concern (LR/lc), lowest risk. Does not qualify for a more at risk category. Widespread and abundant taxa are included in this category, on the IUCN Red List of Threatened Species
Namings for the Japanese squirrel
A young / baby of a Japanese squirrel is called a 'pup, kit or kitten'. The females are called 'doe' and males 'buck'. A Japanese squirrel group is called a 'dray or scurry'.
Custom Search