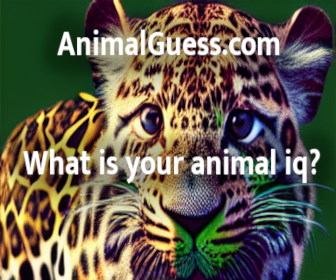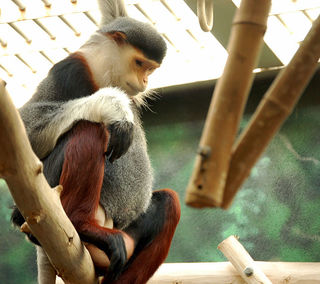 Douc langur
Order : Primates
Family : Cercopithecidae
Subfamily : Colobinae
Species : Pygathrix nemaeus

Keywords: red , white , black , blue , tail , diurnal
The Douc langur, douc monkey, douc, red-shanked douc langur is listed as Endangered (EN), considered to be facing a very high risk of extinction in the wild, on the IUCN Red List of Threatened Species
Some facts about the
Douc langur
Adult weight : 9.72 kg (21.384 lbs)
Maximum longevity : 26 years
Female maturity :1460 days
Gestation : 171 days
Weaning : 330 days
Litter size : 1
Litters per year : 1
Interval between litters : 365 days
Weight at birth : 0.394 kg (0.8668 lbs)
Facts about the douc langur
The Douc Langur is shy and likes to lounge in the trees after eating.
The douc langur is the brightest colored member of the langur family, and perhaps the most colorful of all mammals.
THE red-shanked douc langur (Pygathrix nemaeus) is a large leaf- eating monkey found only in Indochina - in Vietnam, Laos and Cambodia.
True to the region in which they live, Douc Langurs are distinguished by their slanted ,"mongoloid" eyes.
Douc langurs are mostly found in tropical rainforest and monsoon forest (both primary and secondary forest). (Full text)
Once thought to be rare, douc langurs are now known to be large in numbers and quite widespread, living in a variety of habitats. (Full text)
Douc langurs are found most frequently in primary evergreen forests of Vietnam and Laos. (Full text)
The standard description of the red shanked douc langur is as follows. (Full text)
Douc langurs are found in Southeast Asian countries of Cambodia, Laos and Vietnam. (Full text)
The beautiful red-shanked douc langur is only found in north and central Vietnam and Laos. (Full text)
Left: Red-shanked Douc Langur (Pygathrix nemaeus) is a handsome, yet Endangered Asian colobine monkey found in south central Viet Nam and parts of neighboring Laos. (Full text)
- That Douc langurs are leaf-eating monkeys with long intestines and very large (Full text)
Once thought to be rare, Douc Langurs are now known to be large in numbers and quite widespread, living in a variety of habitats mostly found in Vietnam and Laos. (Full text)
More animals beginning with D
Custom Search
Play animal guess