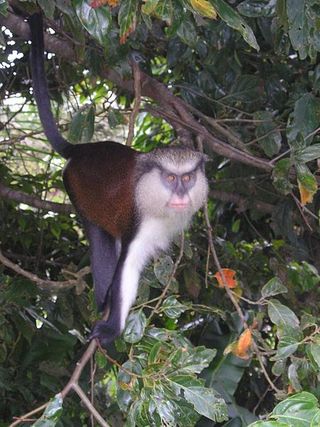 Mona monkey
Order : Primates
Family : Cercopithecidae
Subfamily : Cercopithecinae
Species : Cercopithecus mona

Keywords: brown , white , tail , black , blue , stripe
The Mona guenon, mona monkey is listed as Least Concern (LR/lc), lowest risk. Does not qualify for a more at risk category. Widespread and abundant taxa are included in this category, on the IUCN Red List of Threatened Species
Namings for the mona monkey
A young / baby of a mona monkey is called a 'infant'. A mona monkey group is called a 'troop, barrel, tribe or cartload'.
Facts about the mona monkey
Mona monkeys are the forest's generalists taking advantage of whatever food they can find.
Mona monkeys are the most
Mona Monkeys Mona monkeys are widespread in West and Central Africa from Senegal to Western Uganda.
Tafi Atome Mona monkeys are sacred in this tropical forest full of flowers, and the village holds traditional weavers, drummers, and storytellers.
The Mona Monkey is a
The Mona monkey is a small green-brown fast-moving monkey seen in low bush, thick low trees or on the ground.
The related Mona Monkey is also present in only a handful of registered zoos in
The Mona monkeys are sacred, as is their forest home, and they can be seen easily in the early morning or near sundown. (Full text)
The mona monkey is a speckled reddish brown in colour, with white underparts and an oval patch of white on each . (Full text)
" "A mona monkey is born in the wild. (Full text)
More animals beginning with M
Custom Search