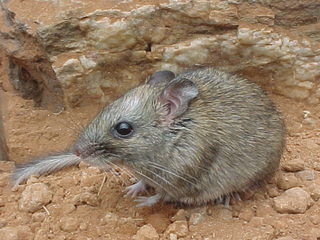 Picture has been licensed under a Creative Commons
Attribution ShareAlike
license
Original source
: Flickr, taken by Michael Barritt & Karen May
Author
: Michael Barritt & Karen May
Central rock rat
Order : Rodentia
Suborder : Sciurognathi
Family : Muridae
Subfamily : Murinae
Species : Zyzomys pedunculatus

The Central rock rat, central thick-tailed rock-rat, macdonnell range rock-rat is listed as Critically Endangered (CR), facing an extremely high risk of extinction in the wild, on the IUCN Red List of Threatened Species
Namings for the central rock rat
A young / baby of a central rock rat is called a 'kitten, nestling, pinkie or pup'. The females are called 'doe' and males 'buck'. A central rock rat group is called a 'colony, horde, pack, plague or swarm'.
Facts about the central rock rat
The Central Rock-rat is an attractive native rodent weighing about 60 grams.
The Central Rock Rat is a [CITIES-listed Endangered Species]
The Central Rock Rat is about 120-140mm.
The scientific name for the Central Rock-Rat is Zyzomys pedunculatus.
Melomys howi (Waite, 1896) De Australische rotsrat (Zyzomys pedunculatus) is een knaagdier uit het geslacht van de Australische rotsratten (Zyzomys) dat voorkomt in een zeer klein gebied in het zuiden van het Noordelijk Territorium. (Wiki)
"Well, the Central Rock Rat is very, very rare,. (Full text)
(Pavey 2002) *** Although there are 3 other species of rock rats in Australia, central rock rats are the only arid zone species. (Full text)
com); Central Rock Rat #2 (71 Kb JPEG) (Arkive) The central rock rat is a medium-sized rodent that weighs 70 - 120 g (2. (Full text)
back to topConservation The majority of sites where the central rock-rat is known to exist are found within the West MacDonnell National Park (2). (Full text)
Although there is no specific threat currently identified, the population of the central rock rat is scattered throughout the western portions of the MacDonnell Ranges of Australia. (Full text)
Central rock rats are nocturnal and are classified as "critically endangered". (Full text)
More animals beginning with C
Custom Search