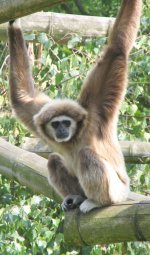 The Lar Gibbon (
Hylobates lar
), also known as the white-handed gibbon, ranges from the Southwest of china, to Malysia and Indonesia. They primarily live in trees, where they move swiftly, swinging from branch to branch. They live a monogamous life, mating for life. Their diet consists of fruit, leaves and insects. The Lar gibbon can live to up to 25 years in the wild, but they are threatened in several ways. It is hunted for its meat, or to keep as a pet, but the biggest threat is the loss of its habitat as more and more forests are cut down.
photo taken by: de:User:Matthias Trautsch, licensed under GFDL.
Keywords: white
The Common gibbon, lar gibbon, white-handed gibbon is listed as Near Threatened (LR/nt), is close to qualifying for or is likely to qualify for a threatened category in the near future, on the IUCN Red List of Threatened Species
Namings for the whitehanded gibbon
A whitehanded gibbon group is called a 'flange'.
Some facts about the
White-handed gibbon
Adult weight : 6.81 kg (14.982 lbs)
Maximum longevity : 57 years
Female maturity :2555 days
Male maturity : 1825 days
Gestation : 217 days
Weaning : 600 days
Litter size : 1
Litters per year : 1
Interval between litters : 1095 days
Weight at birth : 0.307 kg (0.6754 lbs)
Weight at weaning : 1.07 kg (2.354 lbs)
Custom Search