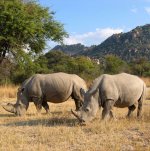 The White Rhinoceros or Square-lipped rhinoceros (Ceratotherium simum) belongs to the family of Rhinocerotidae. Together with the Sumatran Rhinoceros, Black Rhinoceros, Indian Rhinoceros and Javan Rhinoceros it makes up the 5 species of Rhinoceros alive. It lives in the north-east and south of Africa. Its distinctive features are a hump on its back near its head. Funny enough, the White Rhinoceros isn't white (it has about the same skin color as the Black Rhinoceros). Its name is derived from the Afrikaans word for wide ("weit"), which refers to the widt of its mouth, which got misinterpreted by early English settlers.. Therefore, Square-lipped Rhinoceros would be more accurate. The White Rhinoceros can weigh between 1800 - 2700 kg. They are listed as "Critically endangered". Major threats are habitat destruction and poaching.
The Square-lipped rhinoceros, white rhinoceros is listed as Near Threatened (NT), is close to qualifying for or is likely to qualify for a threatened category in the near future, on the IUCN Red List of Threatened Species
Namings for the white rhinoceros
A young / baby of a white rhinoceros is called a 'calf'. The females are called 'cow' and males 'bull'. A white rhinoceros group is called a 'crash or herd'.
Some facts about the
White rhinoceros
Adult weight : 2175 kg (4785 lbs)
Maximum longevity : 45 years
Female maturity :1643 days
Male maturity : 1643 days
Gestation : 515 days
Weaning : 365 days
Litter size : 1
Interval between litters : 1009 days
Weight at birth : 52.5 kg (115.5 lbs)
Custom Search
Play animal guess