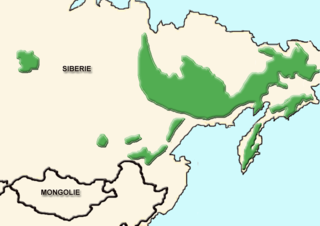 Snow sheep
Order : Artiodactyla
Family : Bovidae
Subfamily : Caprinae
Species : Ovis nivicola

The Snow sheep is listed as Conservation Dependent (LR/cd), the focus of a continuing taxon-specific or habitat-specific conservation programme targeted towards the taxon in question, the cessation of which would result in the taxon qualifying for one of the threatened categories below within a period of five years, on the IUCN Red List of Threatened Species
Namings for the snow sheep
A young / baby of a snow sheep is called a 'lamb'. The females are called 'ewe' and males 'ram'. A snow sheep group is called a 'drove, flock or herd'.
Facts about the snow sheep
Kamchatka snow sheep is pale, almost white, and some American scientists suppose this species of snow sheep resembles the Dall Sheep of North America.
Recomendation for hunters: The hunting for both species of Snow Sheep is physically demanding and needs some hunter's experience in hunting in the mountains.
Snow sheep is a very cautious animal, that's why a hunter must be ready to shoot from the distance of 200-300 m in the mountains.
Snow Sheep: The Putorana Snow Sheep is not importable into the U.
The Koryak snow sheep is one of six recognized subspecies of snow sheep.
SNOW SHEEP hunting trips Snow sheep is a hoofed animal of the hollow-horned family. (Full text)
We organize ecological tours and photo safari in the areas, where the Putorana Snow Sheep is found. (Full text)
More animals beginning with S
Custom Search