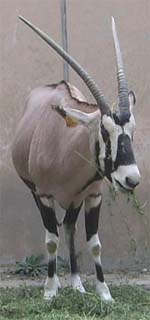 The gemsbok or gemsbuck (
Oryx gazella
) exists mostly in the southern part of East Africa and have been introduced in Mexico and the southwestern United States. Its name is actually derived from the German word for a male
chamois
, although they are not related. The Gemsbocks are known for their capability to last a long time without water. They have a special mechanism to loose heat quickly: they raise their body temperature to 45 degrees Celsius. Oryx gazella is the largest of the Oryx family of antelopes and are hunted by lions,
cheetahs
,
leopards
,
spotted hyenas
and
African hunting dogs
. Their conservation status is 'Lower risk - conservation dependent'.
Image: user Shizhao, licensed under Creative Commons Attribution 1.0
Which zoos have them?
Artis
(Netherlands)
The Gemsbok is listed as Conservation Dependent (LR/cd), the focus of a continuing taxon-specific or habitat-specific conservation programme targeted towards the taxon in question, the cessation of which would result in the taxon qualifying for one of the threatened categories below within a period of five years, on the IUCN Red List of Threatened Species
Countries
Angola
,
Botswana
,
Djibouti
,
Eritrea
,
Ethiopia
,
Kenya
,
Namibia
,
Somalia
,
South Africa
,
Sudan
,
Tanzania
,
Uganda
and
Zimbabwe
Some facts about the
Gemsbok
Adult weight : 170 kg (374 lbs)
Maximum longevity : 24 years
Female maturity :550 days
Male maturity : 550 days
Gestation : 270 days
Litter size : 1
Litters per year : 1
Weight at birth : 12 kg (26.4 lbs)
Custom Search
Play animal guess