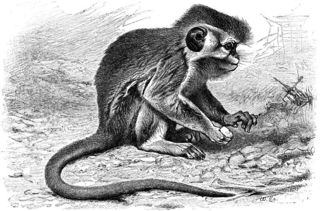 Talapoin
Order : Primates
Family : Cercopithecidae
Subfamily : Cercopithecinae
Species : Miopithecus talapoin

The Southern talapoin monkey, talapoin is listed as Least Concern (LR/lc), lowest risk. Does not qualify for a more at risk category. Widespread and abundant taxa are included in this category, on the IUCN Red List of Threatened Species
Some facts about the
Talapoin
Adult weight : 1.385 kg (3.047 lbs)
Maximum longevity : 28 years
Female maturity :1395 days
Male maturity : 2008 days
Gestation : 169 days
Weaning : 130 days
Litter size : 1
Litters per year : 1
Interval between litters : 1096 days
Weight at birth : 0.204 kg (0.4488 lbs)
Weight at weaning : 0.45 kg (0.99 lbs)
Facts about the talapoin
" The people consider it a miracle that no Talapoin is ever devoured.
In the references just cited, previous chromosome studies of talapoins are listed.
or Miopithecus talapoin is listed on the IUCN Red list (1996) as Lower Risk/Least Concern .
Some species breed readily in captivity, as do rhesus; others, such as talapoins, are more difficult.
TalapoinA talapoin is a Buddhist priest or monk.
Talapoins are one of the best species in the world.
A talapoin is a Buddhist priest or monk. (Full text)
—"The Talapoins are called by the Burmese Phonghis, which term means great glory, or Rahans, which means perfect. (Full text)
More animals beginning with T
Custom Search