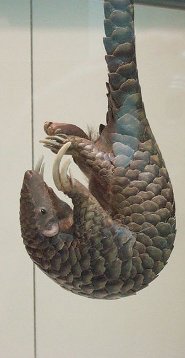 The Chinese Pangolin (
Manis Pentadactyla
) ranges eastward through India, Nepal, Burma, China, and eastern Himalayas. This species is mainly found in the deciduous forests and subtropical regions. The rolling hills of central Nepal have a huge number of termite mounds where Chinese pangolins are found in great numbers.
The Chinese Pangolin belongs to the burrowing family. It can dig up to 8 ft deep (2.5 meters) in the ground with its strong and clawed forefeet. It just takes the pangolin four to five minutes to dig that deep. Once it enters the burrow, it blocks the opening. Some Chinese pangolins occupy burrows of other animals as well.
The Chinese Pangolin appears like a scaly anteater. From head to body, it measures around 60 cm (24 inches) and its tail measures about 18 cm (7 inches). A mature Chinese pangolin weighs about 2.4 kg (82.72 oz). A new born baby pangolin weighs about 93 gram (3.26 oz). It has 18 rows of overlapping scales accompanied with hair, a rare combination found in mammals. It has a small narrow mouth and a little pointed head. Its nose is plump with nostrils at its end. This is a bronze colored animal with a round body equipped with extremely sharp claws.
The Chinese pangolin found in Nepal reproduces in the months of April and May when the weather is a bit warm.
The female gives birth to a single young one at a time and the baby weighs about 1 lb (400 gm) and its length is about 45 cm (18 inches). The young one also has scales which remain very soft for two days. Although the young pangolin can walk on its very first day, the mother carries the baby on its back or tail. In case the mother feels threatened, it immediately folds her baby with its stomach with the help of its tail. Male pangolins have been noticed to show extraordinary parental instinct and allow the female and its baby share the burrow.
The Chinese pangolin is a rather secretive animal. They are considered nocturnal creatures and are extremely shy. They move very slowly and are known for their non-aggressive behavior. Their hard scales work as a protection cover from predators and when they feel endangered, they curl themselves in a ball. Chinese pangolins are mainly terrestrial animals and are observed in forests that are about 20 feet high from the ground.
They mainly eat insects as termites and ants. Their sharp claws help them in digging up the ants and termite mounds and with the help of their sticky, long tongue (25 cm), they can draw their prey into their mouth.
In Vietnam and Hong Kong, Chinese pangolins are considered a delicacy and they are hunted on a large scale only for this purpose. Now, Chinese pangolins are being protected in the forests where they are generally found. Factors like habitat destruction and hunting constantly challenges their survival. Since the forests they inhabit are difficult to patrol, hunters get a greater chance to hunt these animals without being caught.
Picture of the chinese pangolin by
verdammelt
, licensed under the
Creative Commons Attribution-Share Alike 2.0 Generic license
The Chinese pangolin is listed as Near Threatened (LR/nt), is close to qualifying for or is likely to qualify for a threatened category in the near future, on the IUCN Red List of Threatened Species
Some facts about the
Chinese pangolin
Adult weight : 2.35 kg (5.17 lbs)
Weaning : 87 days
Litter size : 1
Weight at birth : 0.093 kg (0.2046 lbs)
Basal metabolic rate : 4 W
Body mass : 3.638 kg (8.0036 lbs)
Temperature : 33.85 °C (92.93 °F)
Custom Search