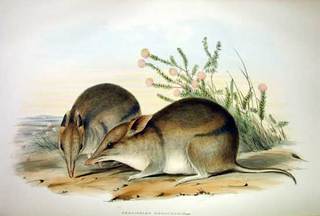 Western barred bandicoot
Order : Peramelemorphia
Family : Peramelidae
Species : Perameles bougainville

Keywords: brown , tail , crepuscular , red
The Barred bandicoot, long-nosed bandicoot, marl, western barred bandicoot is listed as Endangered (EN), considered to be facing a very high risk of extinction in the wild, on the IUCN Red List of Threatened Species
Some facts about the
Shark Bay Islands barred bandicoot
Adult weight : 0.226 kg (0.4972 lbs)
Maximum longevity : 6 years
Female maturity :120 days
Litter size : 2
Weight at weaning : 0.1 kg (0.22 lbs)
Facts about the western barred bandicoot
Today the western barred bandicoot is no longer found on the Australian mainland and its distribution is restricted to the Bernier and Dorre Islands in Shark (Full text)
JO MAZZOCCHI: The western barred bandicoot is a rare success story, because it's managed to come back from the brink of extinction, but most of our mammals are not getting a second chance, as zoologist Dr Chris Dickman explains. (Full text)
The Western Barred Bandicoot is the smallest of the bandicoots.
The Western Barred Bandicoot is light grey or brownish-grey on top and white underneath.
Western Barred Bandicoot (Perameles bougainville) The western barred bandicoot is believed to have once inhabited
Western barred bandicoots are an endangered species with a declining population. (Full text)
Colonies of bilbies, mala (rufous hare-wallaby), banded hare-wallabies, and western barred bandicoots are being bred at a special facility within Francois Peron National Park.
Reintroduced stick-nest rats, as well as three marsupial species (burrowing bettongs, bilbies and western-barred bandicoots) are helping to restore natural ecosystem balances.
Both Bilbies and Western Barred Bandicoots are members of the Bandicoot family and breed very rapidly.
More animals beginning with W
Custom Search