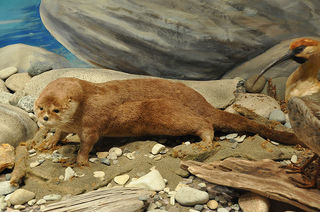 Southern river otter
Order : Carnivora
Family : Mustelidae
Subfamily : Lutrinae
Species : Lontra provocax

The Huillin, southern river otter is listed as Endangered (EN), considered to be facing a very high risk of extinction in the wild, on the IUCN Red List of Threatened Species
Namings for the southern river otter
A young / baby of a southern river otter is called a 'pup or whelp'. A southern river otter group is called a 'romp, bevy, lodge, family or raft'.
Facts about the southern river otter
or Lontra provocax is listed on the IUCN Red list (1996) as Endangered due to A1acd.
Southern river otters are the world's most endangered otter.
The southern river otter is a freshwater species.
The Southern River Otter is medium in size.
The Southern River Otter is much more rare and the Marine Otter is on the verge of extinction with 3 isolated population the most important of which is found in the Naheul Huapi National Park (Aued, M.
Today the distribution of the southern river otter is limited to only seven areas between Cautín (39 o S) and Futaleufú (43 o 30'S).
Lontra provocax is listed as an endangered species. (Full text)
Size The Southern River Otter is medium in size. (Full text)
Southern river otters are widespread throughout the Amazon, but occur at low densities as populations have declined due to persecution for their fur. (Full text)
More animals beginning with S
Custom Search