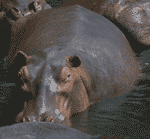 The giant hippopotamus (
Hippopotamus amphibius
) is the only aquatic artiodactyl, spending most of its time in water. They live their lives in herds of up to 40 animals. They may forage several kilometers distant from where they pass the day, and some farmers see considerable damage to their crops and rangelands due to their foraging and their travel to foraging areas. Pygmy hippos are less social and are usually found in and near forests.
Keywords: white
The Common hippopotamus, hippopotamus, large hippo is listed as Vulnerable (VU), considered to be facing a high risk of extinction in the wild, on the IUCN Red List of Threatened Species
Namings for the hippopotamus
A young / baby of a hippopotamus is called a 'calf'. The females are called 'cow' and males 'bull'. A hippopotamus group is called a 'bloat, crash, herd or thunder'.
Countries
Algeria
,
Angola
,
Benin
,
Botswana
,
Burkina Faso
,
Burundi
,
Cameroon
,
Central African Republic
,
Chad
,
Congo, Democratic Republic of the
,
Congo, Republic of the
,
Cote d'Ivoire
,
Egypt
,
Equatorial Guinea
,
Ethiopia
,
Gabon
,
Gambia, The
,
Ghana
,
Guinea
,
GuineaBissau
,
Kenya
,
Liberia
,
Malawi
,
Mali
,
Mauritania
,
Mozambique
,
Namibia
,
Niger
,
Nigeria
,
Rwanda
,
Senegal
,
Sierra Leone
,
Somalia
,
South Africa
,
Sudan
,
Swaziland
,
Tanzania
,
Togo
,
Uganda
,
Zambia
and
Zimbabwe
Hippopotamus habitats
Coastal Brackish / Saline Lagoons / Marine Lakes
,
Coastal Freshwater Lakes
,
Estuaries
,
Forest
,
Grassland
,
Marine Coastal / Supratidal
,
Marine Neritic
,
Moist savanna
,
Permanent Freshwater Lakes (over 8ha)
,
Permanent Freshwater Marshes / Pools (under 8ha)
,
Permanent Inland Deltas
,
Permanent Rivers / Streams / Creeks (includes waterfalls)
,
Permanent Saline, Brackish or Alkaline Lakes
,
Permanent Saline, Brackish or Alkaline Marshes / Pools
,
Savanna
,
Seasonal / Intermittent Freshwater Lakes (over 8ha)
,
Seasonal / Intermittent Freshwater Marshes / Pools (under 8ha)
,
Seasonal / Intermittent Saline, Brackish or Alkaline Lakes and Flats
,
Seasonal / Intermittent Saline, Brackish or Alkaline Marshes / Pools
,
Seasonal / Intermittent / Irregular Rivers / Streams / Creeks
,
Shrub Dominated Wetlands
,
Shrubland
,
Subtropical / Tropical Mangrove Vegetation Above High Tide Level
,
Subtropical / Tropical Moist Lowland
,
Subtropical / Tropical Moist Shrubland
,
Subtropical / Tropical Seasonally Wet / Flooded Grassland
,
Subtropical / Tropical Swamp
and
Wetlands (inland)
Some facts about the
Hippopotamus
Adult weight : 3750 kg (8250 lbs)
Maximum longevity : 61 years
Female maturity :1279 days
Male maturity : 1279 days
Gestation : 234 days
Weaning : 341 days
Litter size : 1
Litters per year : 1
Interval between litters : 563 days
Weight at birth : 40 kg (88 lbs)
Weight at weaning : 237.5 kg (522.5 lbs)
Mortality rate doubling time : 7 years
Custom Search