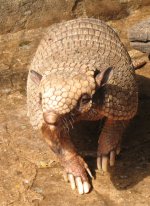 The six banded armadillo (
Euphractus sexcinctus
) lives in Suriname, east of the Andes from the Amazon basin in Brazil to central Argentina and Uruguay. It is the most common type of armadillo in Argentina. Unlike other armadillos, they are active during the day, and come out at night only occasionally. Their diet consists mainly of plants, which is supplemented by insects, carrion. The six-banded armadillo, has, as its name implies, six bands. This is not always the case: the
nine-banded armadillo
can have between 7 and 11 bands. Six banded armadillos are often trapped by farmers, because the armadillos love to feed on the corn shoots.
Links
Keywords: yellow , brown , diurnal , nocturnal
The Six-banded armadillo, yellow armadillo is listed as Least Concern. Does not qualify for a more at risk category. Widespread and abundant taxa are included in this category, on the IUCN Red List of Threatened Species
Namings for the sixbanded armadillo
A young / baby of a sixbanded armadillo is called a 'pup'. The females are called 'zed' and males 'lister'. A sixbanded armadillo group is called a 'fez'.
Some facts about the
Six-banded armadillo
Adult weight : 4.85 kg (10.67 lbs)
Maximum longevity : 22 years
Female maturity :274 days
Male maturity : 274 days
Gestation : 68 days
Weaning : 28 days
Litter size : 2
Weight at birth : 0.105 kg (0.231 lbs)
Weight at weaning : 0.42 kg (0.924 lbs)
Basal metabolic rate : 7 W
Body mass : 8.19 kg (18.018 lbs)
Temperature : 33.85 °C (92.93 °F)
Custom Search
Play animal guess