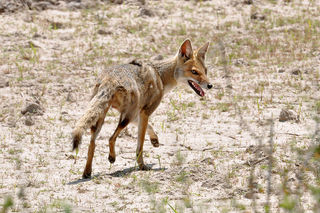 Picture has been licensed under a Creative Commons
Attribution ShareAlike
license
Original source
: Sorro-do-campo (Lycalopex gymnocercus gymnocercus)
Author
: ClŠudio Dias Timm from Rio Grande do Sul
Pampas fox
Order : Carnivora
Family : Canidae
Species : Pseudalopex gymnocercus

The Azara's fox, azara's zorro, pampas fox is listed as Least Concern. Does not qualify for a more at risk category. Widespread and abundant taxa are included in this category, on the IUCN Red List of Threatened Species
Namings for the pampas fox
A young / baby of a pampas fox is called a 'cub, kit or pup'. The females are called 'vixen' and males 'reynard, todd or dog'. A pampas fox group is called a 'leash or skulk'.
Facts about the pampas fox
In areas where the Pampas fox is sympatric with the crab-eating fox, the former would be more abundant in open habitats, while the latter would more frequently inhabit woodland areas.
More animals beginning with P
Custom Search