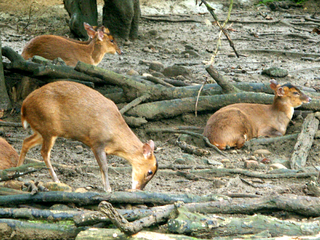 Reeves's muntjac
Order : Artiodactyla
Family : Cervidae
Subfamily : Muntiacinae
Species : Muntiacus reevesi

The Reeves's muntjac is listed as Least Concern (LR/lc), lowest risk. Does not qualify for a more at risk category. Widespread and abundant taxa are included in this category, on the IUCN Red List of Threatened Species
Some facts about the
Reeves's muntjac
Adult weight : 18 kg (39.6 lbs)
Maximum longevity : 23 years
Female maturity :274 days
Gestation : 199 days
Litter size : 1
Litters per year : 2
Interval between litters : 215 days
Weight at birth : 1.05 kg (2.31 lbs)
Facts about the Reeves's muntjac
Habitat Muntiacus reevesi is a forest creature in its native country of China. (Full text)
This chestnut-colored mammal, known to science as Muntiacus reevesi, is named for British naturalist John Reeves, who studied wildlife in China from 1812 to 1831.
Evidence that the seasonal antler cycle of adult Reeves' muntjac (Muntiacus reevesi) is not associated with reproductive quiescence J Reprod Fertil 1991 92: 361-369. (Full text)
MUNTJAC DEER Muntiacus reevesi is found throughout the forest.
In America the number of the Whitetail Odocoileus virginianus has been estimated with traffic kill as a basis and the result used for banning hunting (Göransson & Karlsson 1979), and in England the westerly spread of the Muntjac Muntiacus reevesi is largely monitored via road-kills (Slater 1994). (Full text)
Journal of Zoology, 227, 323-326 Chapman NG, Harris S (1991) Evidence that the seasonal antler cycle of adult reeves muntjac (Muntiacus reevesi) is not associated with reproductive quiescence. (Full text)
SEP 01 1991 v 68 n 9 309 Evidence that the seasonal antler cycle of adult Reeves' muntjac (Muntiacus reevesi) is not associated with reproductive quaiescence. (Full text)
Captive observations indicate that the Reeves's muntjac is primarily crepuscular, active at dawn and dusk, although both diurnal and nocturnal activity have been reported. (Full text)
More animals beginning with R
Custom Search