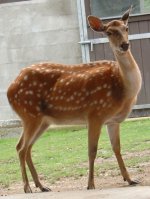 The Sika deer (
Cervus nippon
) lives in East Asia, but they have also been introduced in countries like Australia, Austria, Denmark, England, France, Ireland, Jolo Island (south of the Philippines), New Zealand, Poland, Scotland, Maryland, Morocco, Oklahoma, Texas, Wisconsin, and Virginia (
source
). The Sika deer is primarily nocturnal and do not form groups that often. Males are mostly solitary, and only sometimes form groups. Females form groups with their young only during the calving season. They are excellent swimmers. The word 'sikha' in Japanese is the general word for deer. Two subspecies, Dybowski's sika deer and Formosan sika deer are very endangered and possibly extinct in the wild, but are still found in zoos.
Picture by en:User:Tempshill, licensed under GFDL
The Sika deer, sika is listed as Least Concern (LR/lc), lowest risk. Does not qualify for a more at risk category. Widespread and abundant taxa are included in this category, on the IUCN Red List of Threatened Species
Namings for the sika deer
A young / baby of a sika deer is called a 'fawn or ass'. The females are called 'doe, hind or cow' and males 'buck, stag or bull'. A sika deer group is called a 'herd'.
Some facts about the
Sika deer
Adult weight : 42 kg (92.4 lbs)
Maximum longevity : 26 years
Female maturity :500 days
Male maturity : 500 days
Gestation : 210 days
Weaning : 172 days
Litter size : 1
Litters per year : 1
Weight at birth : 5.75 kg (12.65 lbs)
Weight at weaning : 28.59 kg (62.898 lbs)
Custom Search