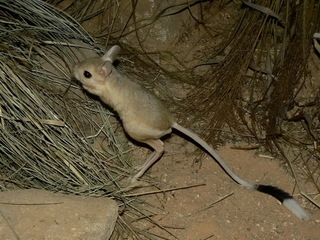 Picture has been licensed under a Creative Commons
Attribution ShareAlike
license
Author
: ??????? ???? / http://paradoxusik.livejournal.com/
Greater Egyptian jerboa
Order : Rodentia
Suborder : Sciurognathi
Family : Dipodidae
Subfamily : Dipodinae
Species : Jaculus orientalis

The Greater egyptian jerboa is listed as Least Concern. Does not qualify for a more at risk category. Widespread and abundant taxa are included in this category, on the IUCN Red List of Threatened Species
Some facts about the
Greater Egyptian jerboa
Adult weight : 0.134 kg (0.2948 lbs)
Maximum longevity : 6 years
Gestation : 35 days
Litter size : 3
Basal metabolic rate : 1 W
Body mass : 0.139 kg (0.3058 lbs)
Temperature : 36.85 °C (98.33 °F)
Facts about the greater Egyptian jerboa
AbstractBackgroundJerboa (Jaculus orientalis) is a deep hibernating rodent native to subdesert highlands.
) The common North African jerboa (Jaculus orientalis) is a typical species.
Jaculus orientalis is very sociable and live in small groups, whereas the J.
The information presented by this dissection of the soft tissues of Jaculus orientalis is now available for comparison to known cranial features in other living or extinct rodents.
shtml'); CallAdv(); CreateTd(4) The common North African jerboa (Jaculus orientalis) is a typical species. (Full text)
References  Background Jerboa (Jaculus orientalis) is a deep hibernating rodent native to subdesert highlands. (Full text)
)The common N African jerboa (Jaculus orientalis) is a typical species . (Full text)
) The common North African jerboa ( Jaculus orientalis ) is a typical species . (Full text)
More animals beginning with G
Custom Search