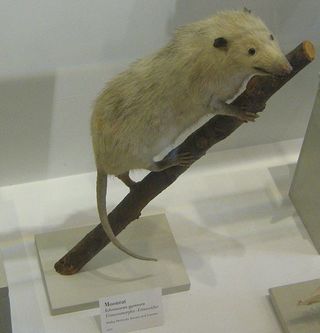 Picture has been licensed under a Creative Commons
Attribution
.
Original source
: Own work
Author
: David Starner
Moonrat
Order : Insectivora
Family : Erinaceidae
Subfamily : Hylomyinae
Species : Echinosorex gymnura

The Gymnure, moonrat is listed as Least Concern (LR/lc), lowest risk. Does not qualify for a more at risk category. Widespread and abundant taxa are included in this category, on the IUCN Red List of Threatened Species
Namings for the moonrat
A young / baby of a moonrat is called a 'kitten, nestling, pinkie or pup'. The females are called 'doe' and males 'buck'. A moonrat group is called a 'colony, horde, pack, plague or swarm'.
Some facts about the
Moonrat
Adult weight : 1.25 kg (2.75 lbs)
Gestation : 37 days
Litter size : 2
Litters per year : 2
Weight at birth : 0.015 kg (0.033 lbs)
Basal metabolic rate : 3 W
Body mass : 0.721 kg (1.5862 lbs)
Temperature : 35.85 °C (96.53 °F)
Facts about the moonrat
A close cousin of the hedgehog, the Mindanao Moonrat is one species in this group that is already very rare.
At 11:16 PM, Anonymous said… You Moonrats are still concerned about your rat friends over Abu Ghraib amazing!
Not perturbed by this moderating influence he proceeded to send an innocent-looking Moonrat (is this possible?
Southeast Asia's furry Gymnures, or moonrats, are in the same family.
The Bullfrog & The Moonrat is growing on me, the more I listen to it, the more I like it.
The moonrat is a narrow animal the size of a house cat, with a long pointed muzzle.
The moonrat is notorious for its characteristic onion or rotten-garlic odor, produced by an anal glandular secretion.
moonrat is getting a new tattoo soon and her board inspired me to post this. (Full text)
MoonRat is not a member of any public groups (Full text)
Moonrats are widely distributed within their geographical range. (Full text)
The more primitive moonrats are long-legged and covered with soft, dense fur rather than spines. (Full text)
The Hainan moonrat is a member of the hedgehog family, and it frequently searches for prey in water, feeding on a range of crustaceans, mollusks, and even fish. (Full text)
Moonrats are essentially invisible foes, since they're rarely taken too seriously. (Full text)
More animals beginning with M
Custom Search