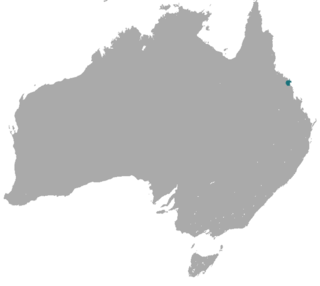 Picture has been licensed under a Creative Commons
Attribution ShareAlike
license
Original source
: Base map derived from File:BlankMap-World.png. Distribution data from IUCN Red List
Author
: Chermundy
Proserpine rock wallaby
Order : Diprotodontia
Family : Macropodidae
Species : Petrogale persephone

The Prosperine rock wallaby is listed as Endangered (EN), considered to be facing a very high risk of extinction in the wild, on the IUCN Red List of Threatened Species
Facts about the Proserpine rock wallaby
Proserpine rock wallaby Among the land mammals, the Proserpine rock wallaby is found only in the Proserpine area and on a few offshore islands in the Whitsundays.
The Proserpine Rock Wallaby is an endangered species only known to exist in the Whitsunday Shire and Glouster Island.
The Proserpine rock wallaby is the only land mammal endemic to the Great Barrier Reef Marine Park.
The size of a Proserpine Rock Wallaby is about one metre intotal length.
The Proserpine rock wallaby is a shy animal which quickly moves away over the rocks when it feels threatened. (Full text)
More animals beginning with P
Custom Search