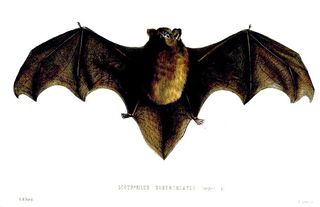 Long-tailed wattled bat
Order : Chiroptera
Family : Vespertilionidae
Subfamily : Vespertilioninae
Species : Chalinolobus tuberculatus

Keywords: fly
The Long-tailed wattled bat is listed as Vulnerable (VU), considered to be facing a high risk of extinction in the wild, on the IUCN Red List of Threatened Species
Namings for the longtailed wattled bat
A young / baby of a longtailed wattled bat is called a 'pup'. A longtailed wattled bat group is called a 'colony or cloud'.
Facts about the long-tailed wattled bat
The presence of a species of this genus in Norfolk Island and its absence from New Zealand is very remarkable, for, as I pointed out for the first time about ten years ago, one of the two known New-Zealand bats, namely Chalinolobus tuberculatus, is also common in Australia.
The comparatively normal long-tailed bat (Chalinolobus tuberculatus) is part of a worldwide family called the Vespertilionidae. (Full text)
More animals beginning with L
Custom Search