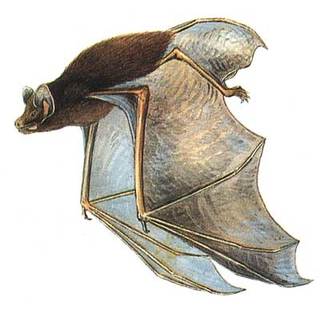 Gould's wattled bat
Order : Chiroptera
Family : Vespertilionidae
Subfamily : Vespertilioninae
Species : Chalinolobus gouldii

The Gould's wattled bat is listed as Least Concern (LR/lc), lowest risk. Does not qualify for a more at risk category. Widespread and abundant taxa are included in this category, on the IUCN Red List of Threatened Species
Namings for the Gould
A young / baby of a Gould is called a 'pup'. A Gould group is called a 'colony or cloud'.
Facts about the Gould's wattled bat
3/4): 40-41 Overnight surveys of activity at Glenalta in the Adelaide Hills from November 96 to March 97 showed that Gould's wattled bat is active throughout the night, without a significant change of activity.
As in all insectivorous bat species, Gould's Wattled bats are highly susceptible to insecticides both directly and indirectly (on their food source).
Chalinolobus gouldii (Gould's wattled bat) is a regular evening visitor to Flinders University where it forages for insects in the floodlights around several buildings, using frequency modulated calls which terminate at around 30 kHz.
Comments:Gould's Wattled Bat is a small nocturnal mammal found throughout Tasmania and mainland Australia.
Gould's wattled bats are often seen swooping for insects attracted to the light near the park gate.
More animals beginning with G
Custom Search