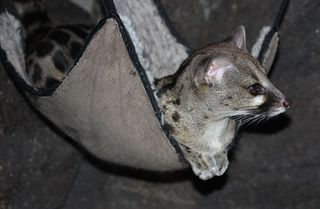 Picture has been licensed under a
GFDL
Author
: Ltshears
Permission
: GNU Free Documentation License
Large-spotted genet
Order : Carnivora
Family : Viverridae
Subfamily : Viverrinae
Species : Genetta tigrina

Keywords: nocturnal , black , white , tail
The Blotched genet, cape large-spotted genet, large-spotted genet is listed as Least Concern (LR/lc), lowest risk. Does not qualify for a more at risk category. Widespread and abundant taxa are included in this category, on the IUCN Red List of Threatened Species
Some facts about the
Large-spotted genet
Adult weight : 1.82 kg (4.004 lbs)
Maximum longevity : 21 years
Female maturity :1461 days
Gestation : 70 days
Weaning : 59 days
Litter size : 3
Litters per year : 2
Weight at birth : 0.072 kg (0.1584 lbs)
Basal metabolic rate : 4 W
Body mass : 1.699 kg (3.7378 lbs)
Temperature : 36.85 °C (98.33 °F)
Facts about the large-spotted genet
Physical Appearance The large spotted genet is siimilar to the common genet in appearance.
Social Behavior Large spotted genets are solitary and nocturnal.
The large spotted genet is distinguished from its cousin, the small spotted genet by the dark tip at the end of its tail.
The Large-Spotted Genet is distributed in South Africa from the southern and eastern coast, KwaZulu-Natal, Mpumalanga, Northern Province and extending into neighbouring countries.
The Large Spotted Genet (Genetta tigrina) is a cat-like, nocturnal member of the same Viverridae family as mongooses and thus quite a close cousin to Gus. (Full text)
More animals beginning with L
Custom Search